AECEP Meeting Novembre 2018 – International speakers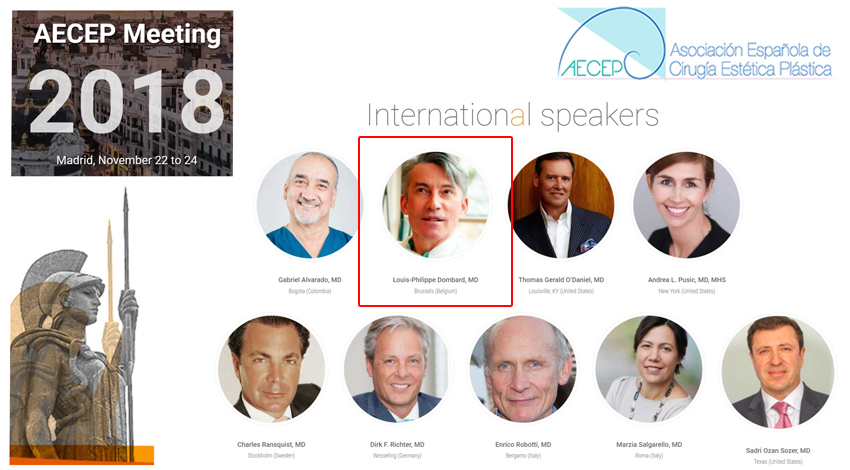 Lors du Congrès de Chirurgie Esthétique de Madrid 2018, le docteur Dombard présentera (International speakers):
Tip remodeling to rotate the lower nasal third (remodelage, pour faire pivoter le tiers nasal inférieur).
Managing the fronto-nasal angle. Osteotomies (Gérer l'angle fronto-nasal. Les ostéotomies).
Secondary noses; techniques of reconstruction (rhinoplastie secondaire; techniques de reconstruction).
Rotation scalp front lift and mid-face (Rotation du lifting du cuir chevelu et du milieu du visage).
Periorbitary dermofat grafts and mid-face (Dermofat périorbitaire greffes et "mid-face").


Pour plus d'infos.




Actualizacion en cirugia estetica facial – Avril 2016 Madrid
Fifth Bergamo Open Rhinoplasty Course
15-19 Mars 2016















Rhinoplasty International Course, March 11-12, 2014


Tentative Faculty: M. Bussi (Italy), V. Celik (Turkey), L.P. Dombard (Belgium), H. Foda (Egypt), D.J. Menger (The Netherlands), R. Mazzola (Italy), P. Palma (Italy), S. Sciuto (Italy)

ORGANISING SECRETARIAT

San Raffaele Congress Centre

Via Olgettina 58 – 20132 Milano

Phone: +39 02 2643 6227 – Fax: +39 02 2643 3754

E-mail: isella.linda@hsr.it







Monaco 3rd World Plastic Surgery Congress.